When Cardinals manager Oliver Marmol came to the mound with two outs in the fifth inning Sunday and the Cardinals down 6-5, Adam Wainwright knew he was done. He didn't know that his longtime catcher and first baseman were going to walk to the dugout with him.
"That was a surprise," Wainwright said. "I thought that was cool."
But he added, "I was done. I needed to be done."
Wainwright, who hasn't announced any retirement plans as have Yadier Molina and Albert Pujols, allowed six hits and four runs in 4⅔ innings of the Cardinals' 7-5 loss to the Pittsburgh Pirates. Some were bloops. But a leadoff walk bedeviled him in the second, as did a Ben Gamel three-run homer off a bad sinker.
The plan had been for Wainwright, who has one win in exactly a month, to throw 50 or so pitches, "get on track and get out of there," he said.
But he ended up throwing 86 pitches, 53 for strikes.
"I was proud to walk off the field with those guys even though I was pouting a little bit," he said. "It still was a good moment for me to say I was teammates with two of the greatest ever. That was a cool time for Albert and Yadi and our whole team to see how St. Louis celebrates some of the greatest players, not just Cardinals, but players ever."
Molina said he had been hoping to finish the fifth inning.
"Not everything is perfect," he said. "The moment was great just to walk with Albert and 'Waino' next to me. It was a great moment for baseball, I think."
Marmol, saying, "It was meaningful for all three of them to walk off at the same time," later said he probably should have made the move involving Wainwright and the other two an inning before that — after the right-hander had retired the first two hitters.
"I should have done it the other way," Marmol admitted.
Pujols, who would have led off the fifth, had homered in his second at-bat. That was in the third inning, when he lined No. 702 into the center-field greenery, and came after he had doubled home two runs in the first. Those three RBIs tied Pujols with Babe Ruth for second all-time, at 2,214, behind only Henry Aaron's 2,297.
"He always rises to the occasion in big moments," Wainwright said.
Marmol said he didn't want Pujols' next at-bat to take anything away from the home run he had just hit.
"Letting that be the last one for the regular season (at home) is not a bad way to go out," Marmol said. "He continues to 'wow' everybody."
Marmol could have pinch-hit for Pujols in the fifth but would have found that awkward. And he didn't want Wainwright to finish with a losing record and if he could make it through the fifth, he could have a winning record.
"We have more games to play so it's not like it's our last game," Pujols said. "I know 'Waino' can be a little disappointed. He wished he would have got the win and pitched better, but not everything can go perfect. At the end of the day I think it's really exciting. Three more games left in the regular season and get ready for the postseason."
Wainwright did end up with a losing record (11-12) and, having given up 44 hits and 23 runs in his past 28⅔ innings over six starts, is in trouble for making the postseason roster.
Maybe even the end of his career looms larger. Someone close to Wainwright thought that a month ago, when Wainwright had a 3.09 ERA, that it was fairly certain the 41-year-old would be back. Now, no one really is sure.
Wainwright's face while he was sitting in the dugout, showed his frustration.
"Yeah, I'm frustrated. I went from … no doubt pitching Game 1 (of the team's opening-round playoff series) to maybe not pitching at all," he said. "I cannot control that. All I can do is keep making improvements.
"Breaking ball was better today. Cutter was much better today. Still got to work on my heater a little bit, looking to get a little more zip to that pitch. Timing of my delivery was still a little bit off."
But Wainwright had a handful of swings and misses, something he hadn't been doing with any pitch. "The velo(city) on the other two pitches (curveball and cutter) were back to where they needed to be," he said.
Marmol noted the improvement in Wainwright's pitches other than his fastball but added, "At the end of the day, you look at the (pitching) line and that's not what you want."
Ordinarily, Wainwright would not undertake participating in a pregame ceremony on the day he was pitching. But this was Yadi and Albert.
"I declined at first because I knew it was going to be in my warmup," he said. "And I was asked again. And I thought, you know what, this is a special time for those two and I feel like I owe it to them to be a part of it. I wouldn't have done it if I was a second-year player. But I've been here a long time and been teammates with them a long time and felt like I ought to. I wouldn't miss that."
Marmol said Wainwright could have filmed his remarks a day earlier.
"He could have done it a lot of different ways but he wanted to make sure it was special for those two guys," Marmol said.
Wainwright and Molina, who made their big-league record-extending 328th start together, have a special bond.
"I reminded Yadi the other day that he had set the record for most putouts (by a catcher). I got a bunch of those. He's welcome," said Wainwright, with as much of a joke as he could muster Sunday.
He normally takes little time in warming up but he said he didn't shortchange his prep work Sunday, so there was no excuse.
"We started late because I wasn't going to," he said.
But, after a five-pitch first inning, it went mostly downhill.
"This is bad timing," Wainwright said. "Every time you play a big-league season you're going to have a little series of games where things are not going your way. It's unfortunate this is the last month of the season. The only difference between this year and last year was my September was great last year, and this year it wasn't.
"I kind of ruined a good season with these last four starts. That's the first losing season I've ever had pitching a full season. Didn't get to 200 innings (191 2/3) Didn't get to 200 wins (195). Didn't really do a dad-gum thing that I wanted to, except help us win some games.
"I also know I should have won a lot of games in the middle there when I pitched very well and didn't get any breaks. Yeah, just a tough ending. Good thing we've got another month to play."
Will we see him pitch again next weekend?
"I have no idea," Wainwright said. "I'm good enough to keep making adjustments and keep growing and gaining steam towards the end goal."
Miles Mikolas, the new staff ace, said, "He's gearing up for the playoffs and I'm sure he's got an extra playoff gear that a lot of people probably don't realize that he has. We know he'll be ready."
Pujols, who has a daughter with Down syndrome, historically had performed well on 'Buddy Walk' Day, once hitting three homers in one of those Sunday games here during his first tour with the Cardinals.
It was 'Buddy Walk Day' for Down syndrome kids at Busch Stadium on Sunday and Pujols didn't disappoint. After he left the game, Juan Yepez came in to play first base and had two doubles, giving the pair three doubles and a homer.
"Pretty good, huh?" Yepez said. "The Hall of Fame — and the future."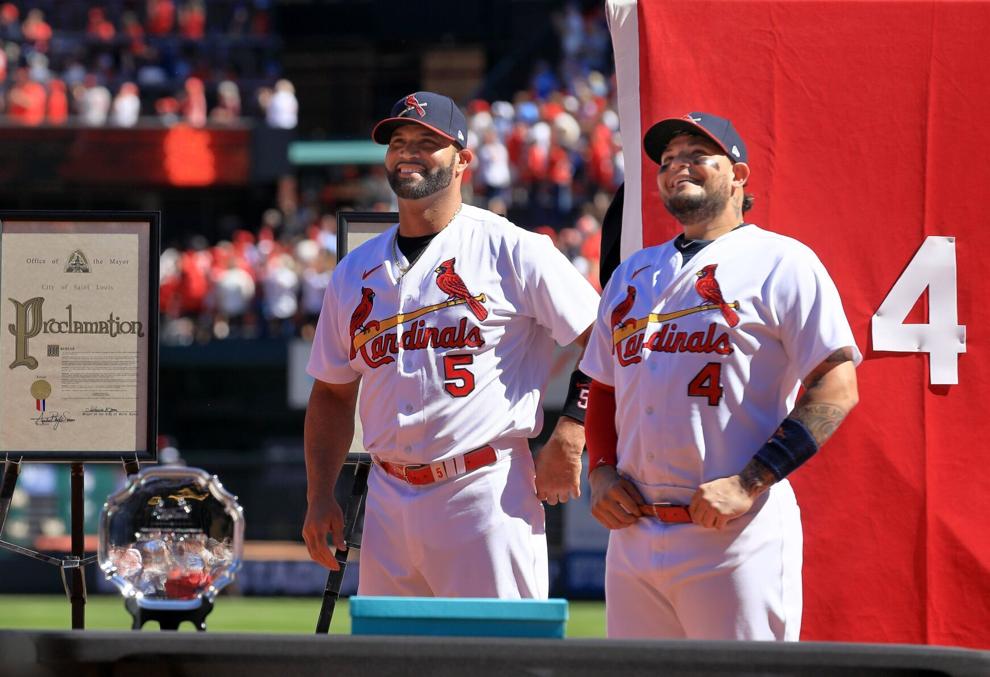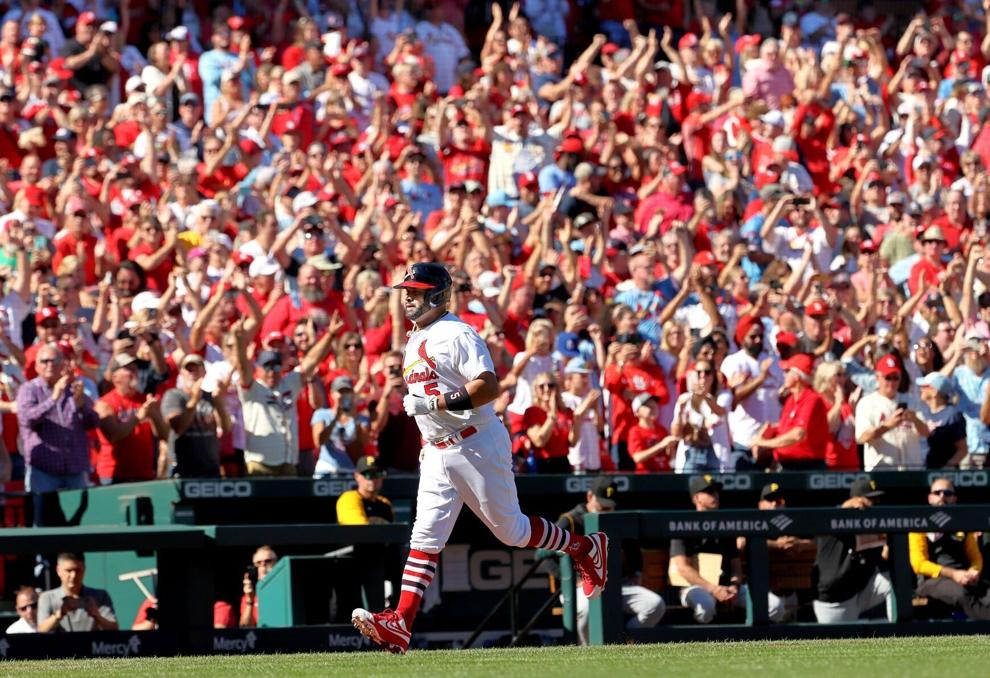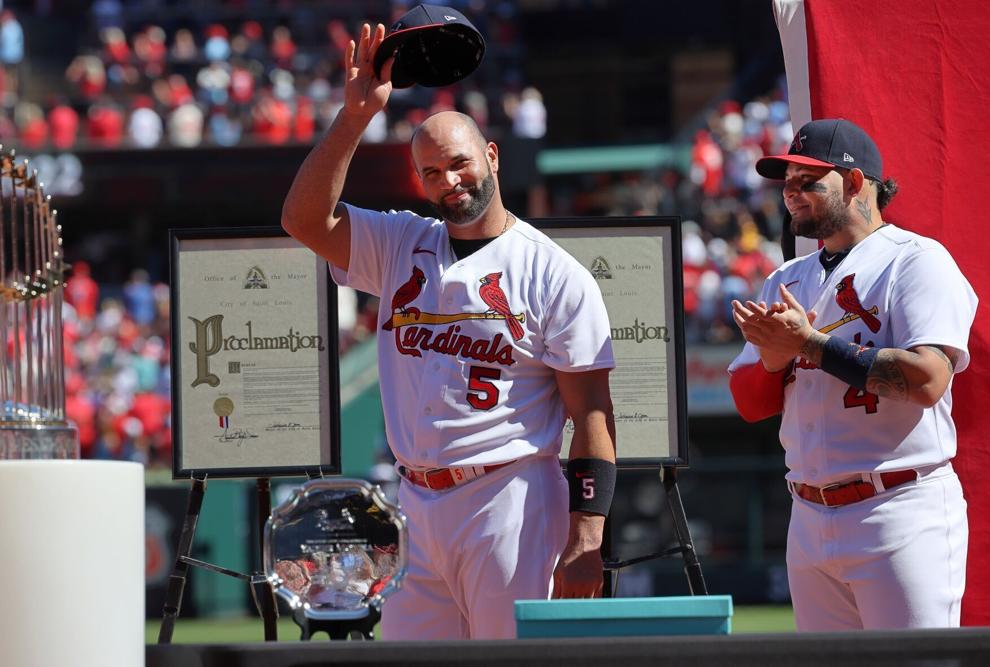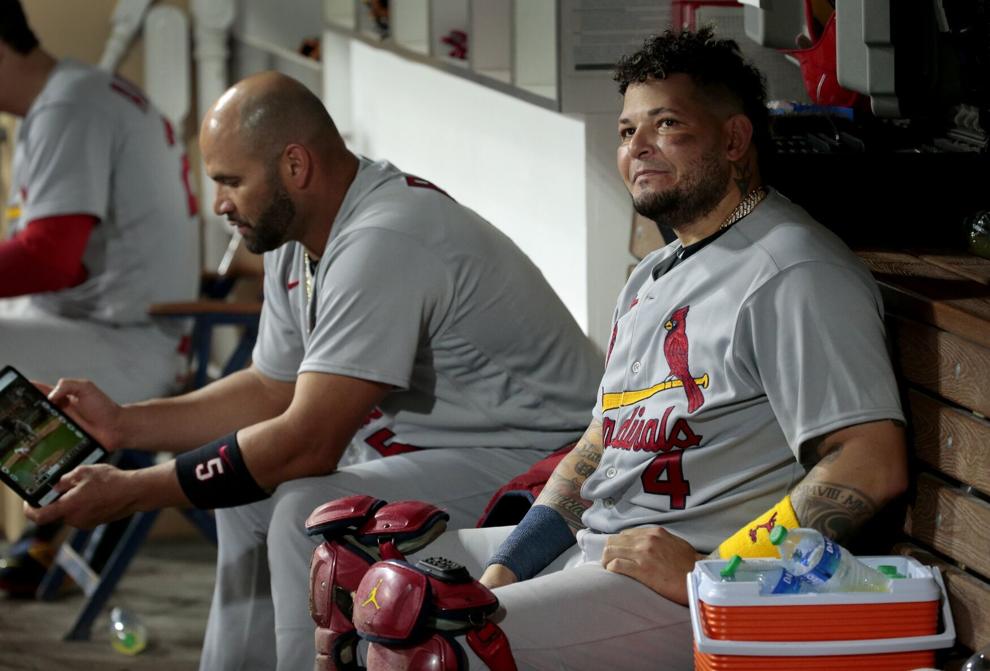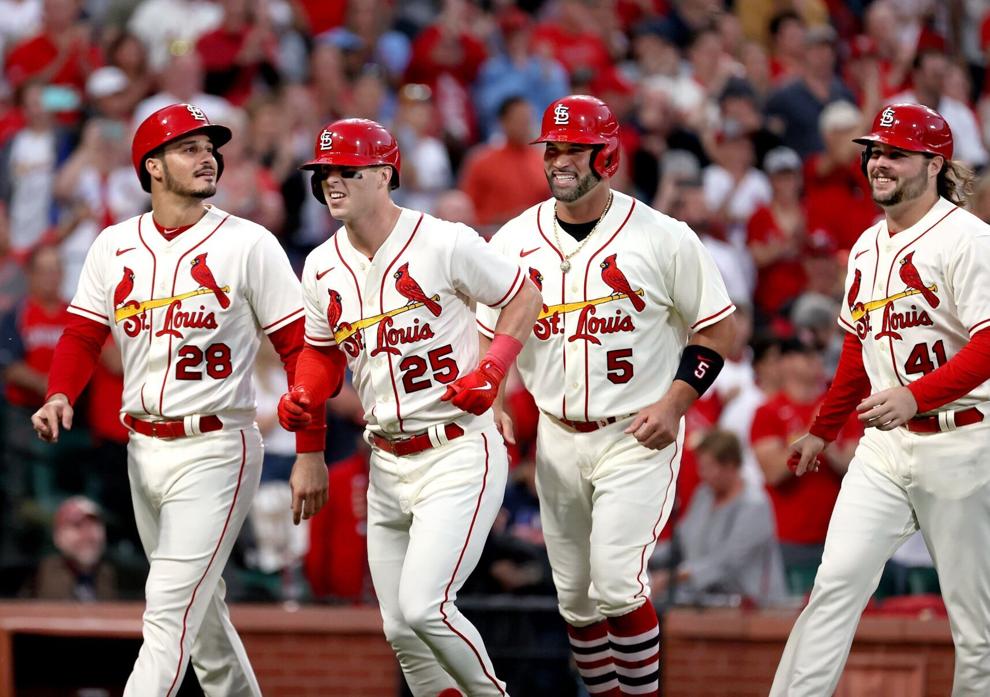 Scenes from the last regular-season game at Busch Stadium