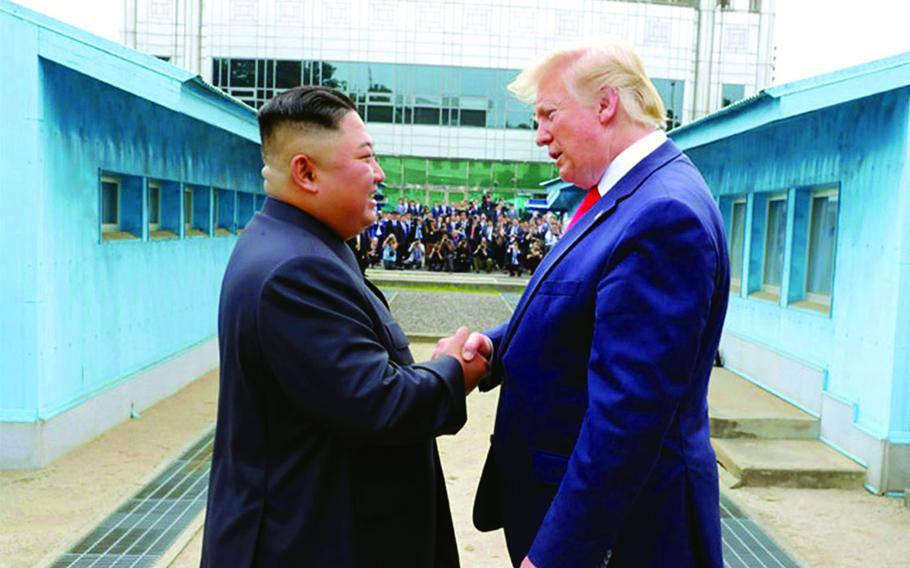 CAMP HUMPHREYS, South Korea — Over two dozen letters exchanged between former President Donald Trump and Kim Jong Un revealed the North Korean leaders efforts to curry favor with Trump while sidelining South Korean President Moon Jae-in during negotiations.
Twenty-seven letters dated between 2018 to 2019 were fully released on Sunday by the Korean-American Club, a nonprofit organization of current and former South Korean journalists from various news agencies in the country. Portions of the letters were first published in investigative journalist Bob Woodward's book on Trump's administration, "Rage," in 2020.
The letters were released so that the world "can study deep into these materials … and improve understanding for everyone in the nation," Lee Kang Duk, the club's chairman and a former political reporter for the Korean Broadcasting System, told Stars and Stripes by phone Tuesday.
Trump and Kim expressed their fondness for each other in many of the writings, which the U.S. president described during campaign rallies as "beautiful letters." In other missives, the two lamented the political climate that stalled their summit talks.
"I am ready to work with your excellency with all my heart and devotion" to accomplish a feat no one has ever accomplished, Kim said in a letter dated April 1, 2018, two months before met with Trump for the first time at a summit in Singapore.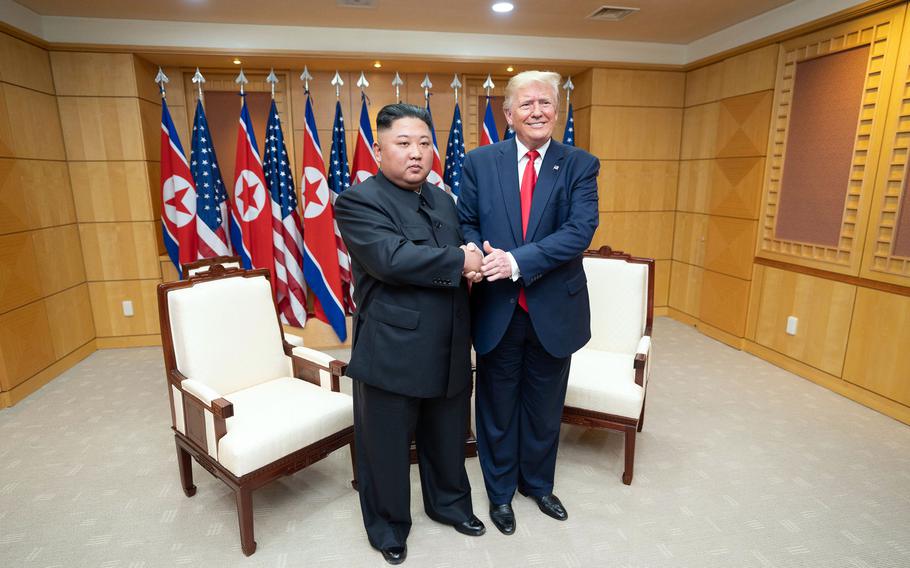 Trump replied the same day, saying he was "happy to meet" Kim to "drastically" improve relations between Washington and Pyongyang.
Four months later, Trump wrote another letter thanking Kim for the repatriation of 55 remains believed to be U.S. troops killed during the 1950-53 Korean War. A U.S. military aircraft had flown to North Korea on July 27, 2018, to receive the remains following a joint agreement signed in Singapore.
"Thank you for keeping your promise to start the repatriation process of our soldiers," Trump said in the letter dated Aug. 2, 2018. "I look forward to seeing you soon," he wrote in black ink.
On June 10, 2019, four days before the U.S. president's birthday, Kim wrote a letter congratulating Trump and for the one-year anniversary of the "historical moment" in Singapore.
"I extend my warmest regards for your excellency's birthday," Kim wrote.
Two days later, Trump thanked Kim for his birthday letter and said the two leaders shared a "unique relationship and a special friendship."
However, the tone of the letters was not always pleasant, and complications in their negotiations began bleeding through the missives.
"As of now, it is very difficult for me and my people to understand the decision and behavior of you and South Korean authorities," Kim wrote in a letter dated Aug. 5, 2019.
Kim went on to say that he was "offended" by the "paranoid" war exercises between U.S. and South Korean troops.
"As your excellency indicated at some point, we have a strong military … and it is a matter of common knowledge that the [South Korean] armed forces are no match for our military," Kim continued. "Setting aside the differences in military power, I have no intention to attack South Korea or start a war. I have no inclination to do that indeed."
The communist leader also alluded to Trump having previously justified North Korea's weapons tests.
"As your excellency mentioned, while we conducted capability improvement tests of very small missiles that have been being done by all countries, we astonished fools in the South and this was quite funny," Kim said in the August letter.
Trump and Moon later downscaled and suspended the joint military exercises to reduce tensions on the Korean Peninsula. In addition to returning the remains of U.S. troops, North Korea agreed to a broadly worded set of terms to bring peace in the region and declared it would suspend nuclear and intercontinental ballistic missile tests in 2018.
Kim also hinted at his desire to sideline Moon in denuclearization talks and instead collaborate only with Trump.
"I hope in the future to have discussions on the denuclearization issue directly with your excellency, not South Korean President Moon Jae-in, and I think President Moon's excessive interest being expressed about our issue is unnecessary," Kim wrote in a letter dated Sept. 21, 2018.
The peace talks eventually collapsed after disagreements over sanctions relief and the terms for North Korea's denuclearization. Trump's last summit with Kim was in Hanoi on Feb. 28, 2019, but the two met again four months later at the Demilitarized Zone between North and South Korea.
North Korea has since conducted a record number of weapons tests, having fired more than 33 missiles in 20 rounds of testing so far this year. U.S. and South Korean intelligence officials have also said the regime is prepared to conduct its seventh nuclear test, its first since 2017.